ISSUES
Designing a multi-station and food court area in a campus student center and dining facility.
Creating a stylish, fun and functional serving environment for a 580-seat dining hall and cyber café.
Choosing durable, renewable materials that will stand up to the wear and tear of a busy food service environment as well as daily use by the student population.
CHALLENGES
Selecting surface materials that were durable and easy to maintain but could also add color and beauty as a featured design element.
Finding materials that could meet the varied design requirements for a number of unique applications including: hot/cold serving platforms, tray stands, countertops, display boxes and beverage stations.
Choosing surfaces that could stand up to spills, stains, chips, cracks, extreme temperatures and food service code requirements.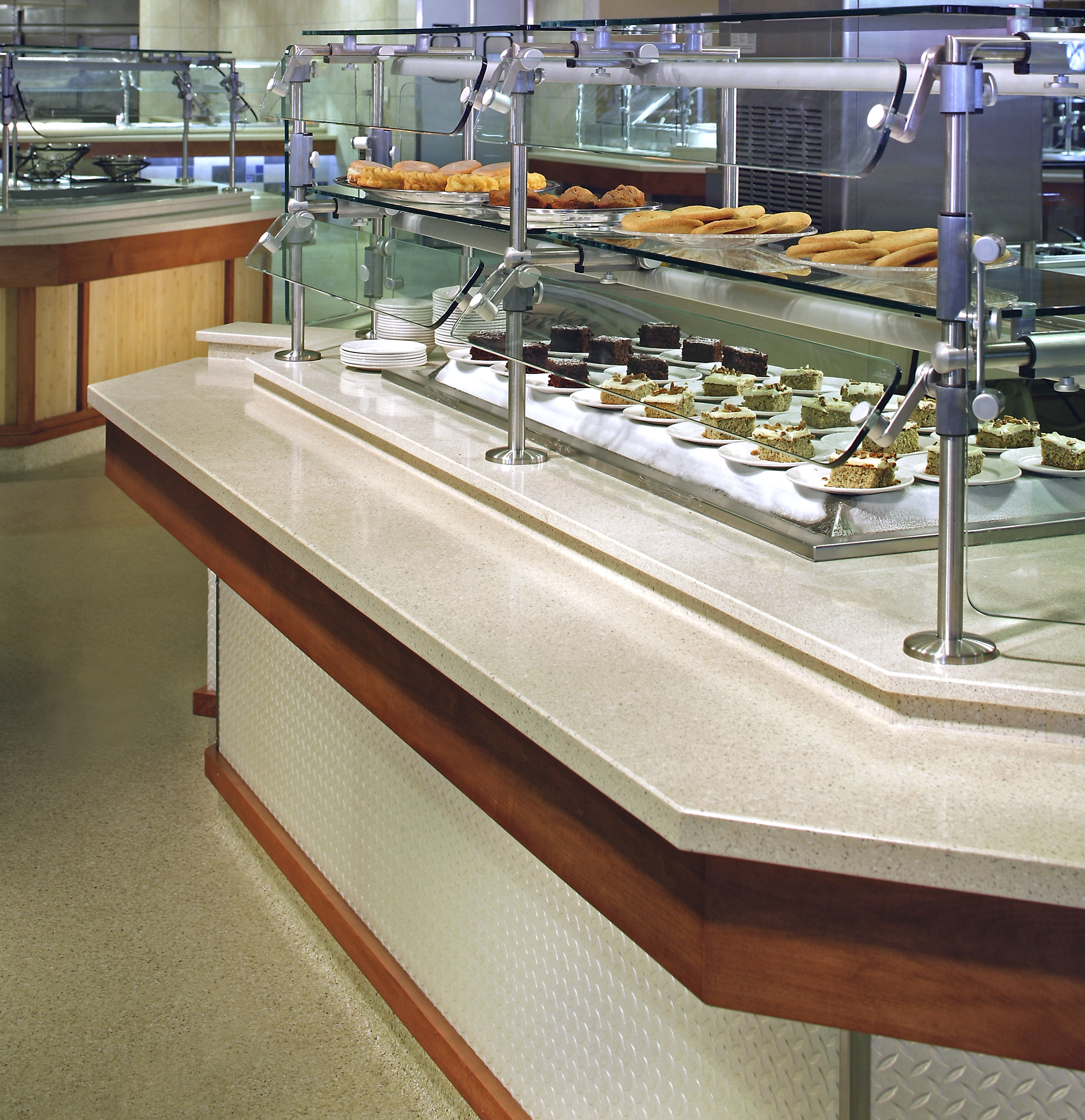 SOLUTIONS
With a sleek, streamlined look and varied color palette, Corian® Quartz added a cohesive element to the many varied chef serving stations.
Corian® Quartz is durable and renewable. It resists chips, cracks, scratches and stains—making cleaning and maintenance simple.
A wide range of features made Corian® Quartz ideal for a food service environment. These included: NSF/ANSI 51 food contact Certification and a Class 1(A) fire rating.
BENEFITS
The radiant surface of Corian® Quartz is beautifully unique and durable. It requires no sealants or treatments, keeping cleaning and maintenance simple.
Corian® Quartz is beautiful and stylish, yet practical and functional—making it the ideal choice for a wide range of food service applications.
PROJECT INFORMATION
University of Georgia, Athens, Georgia
Collins Cooper Carusi Architect
Color: Corian® Quartz Space Black and Corian® Quartz Cloud White