ISSUES
Creating a sophisticated, modern bar and eatery within a casual neighborhood setting
Designing a bar area to be attractive and inviting, yet practical and easy to clean and maintain
Choosing durable, renewable materials that will stand up to the daily wear and tear in a busy bar and restaurant
CHALLENGES
Choosing a versatile solid surface that could be used for a traditional bar, or a unique drink rail, and could accommodate a custom steel ice tray for chilling beverages.
Finding a material with all the visual impact of a heavy stone slab without the many limitations common with natural stone.
Finding a surface in a stylish neutral color that could stand up to spills, hot plates, food service code requirements and constant use.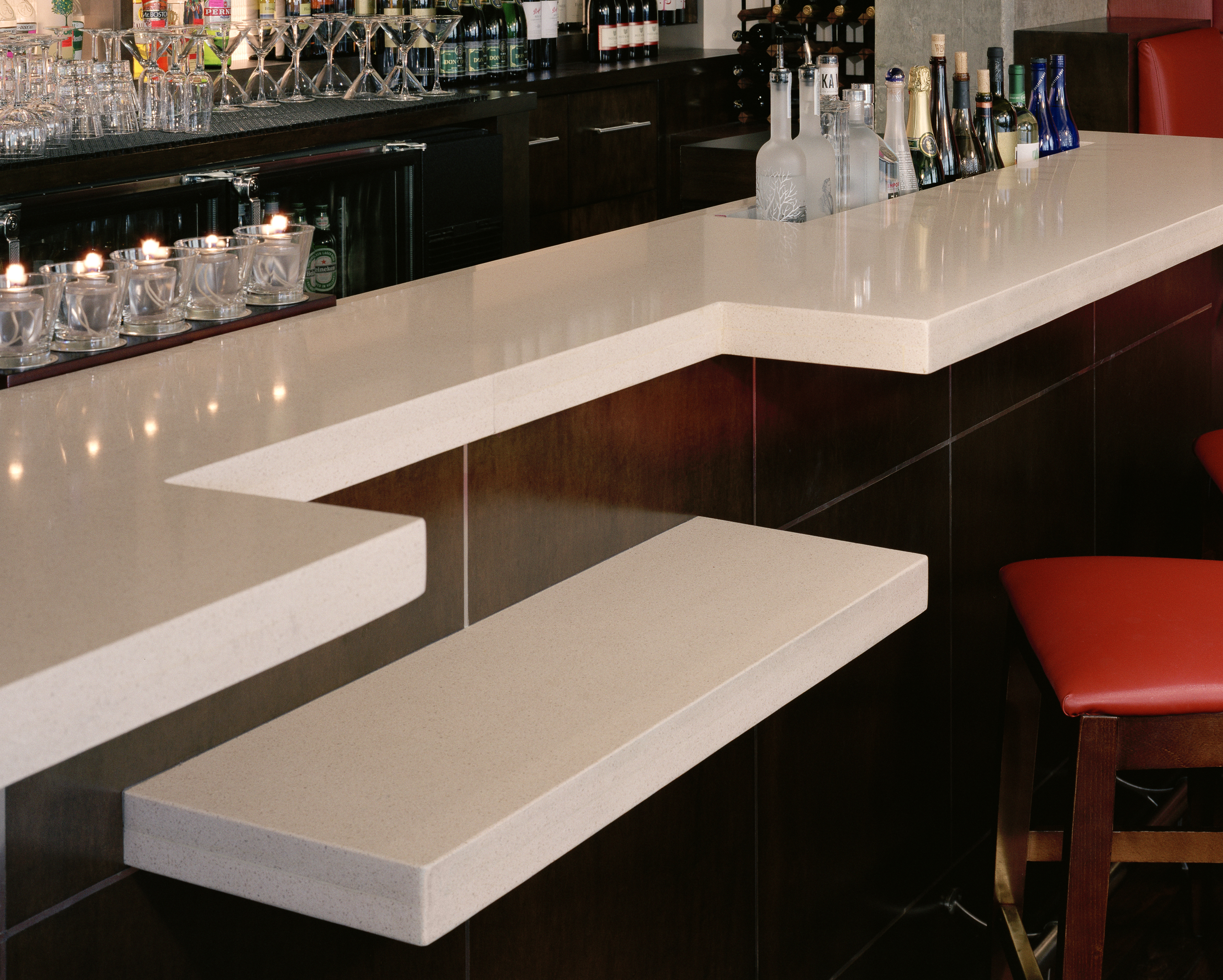 SOLUTIONS
Corian® Quartz was fabricated in a 3" thickness, providing the heavy stone slab look the designer wanted with the practicality required in a bar and restaurant setting.
The unique, reflective quality of Corian® Quartz worked well with other design components, such as dark woods, warm lighting and orange accents—adding to the modern elegance of the space.
Corian® Quartz is heat- and stain-resistant and nonporous —ideal for withstanding red wine spills and food service applications.
BENEFITS
Corian® Quartz offer an extensive color palette providing unique depth and shimmer.
Corian® Quartz offer the beauty of natural stone without the necessary polishing or sealing. It also resists chips, cracks and scratches, offering excellent durability and renewability.
Versatile Corian® Quartz is nonporous, which makes it easy to clean and maintain. It meets NSF/ANSI 51 Certification necessary for commercial food service applications.
PROJECT INFORMATION
Town Restaurant, Charlotte, North Carolina
Cicley Worrell IIDA, Designer, Shook Kelley
Color: Corian® Quartz Cloud White