ISSUES
Creating a stylish, upscale restaurant atmosphere in an old dining hall space to broaden the appeal to students.
Designing an expanded, flexible environment to accommodate an increase in menu options as well as social activities.
Updating a high-traffic food service area at the university that could stand up to the wear and tear of daily use by the student population.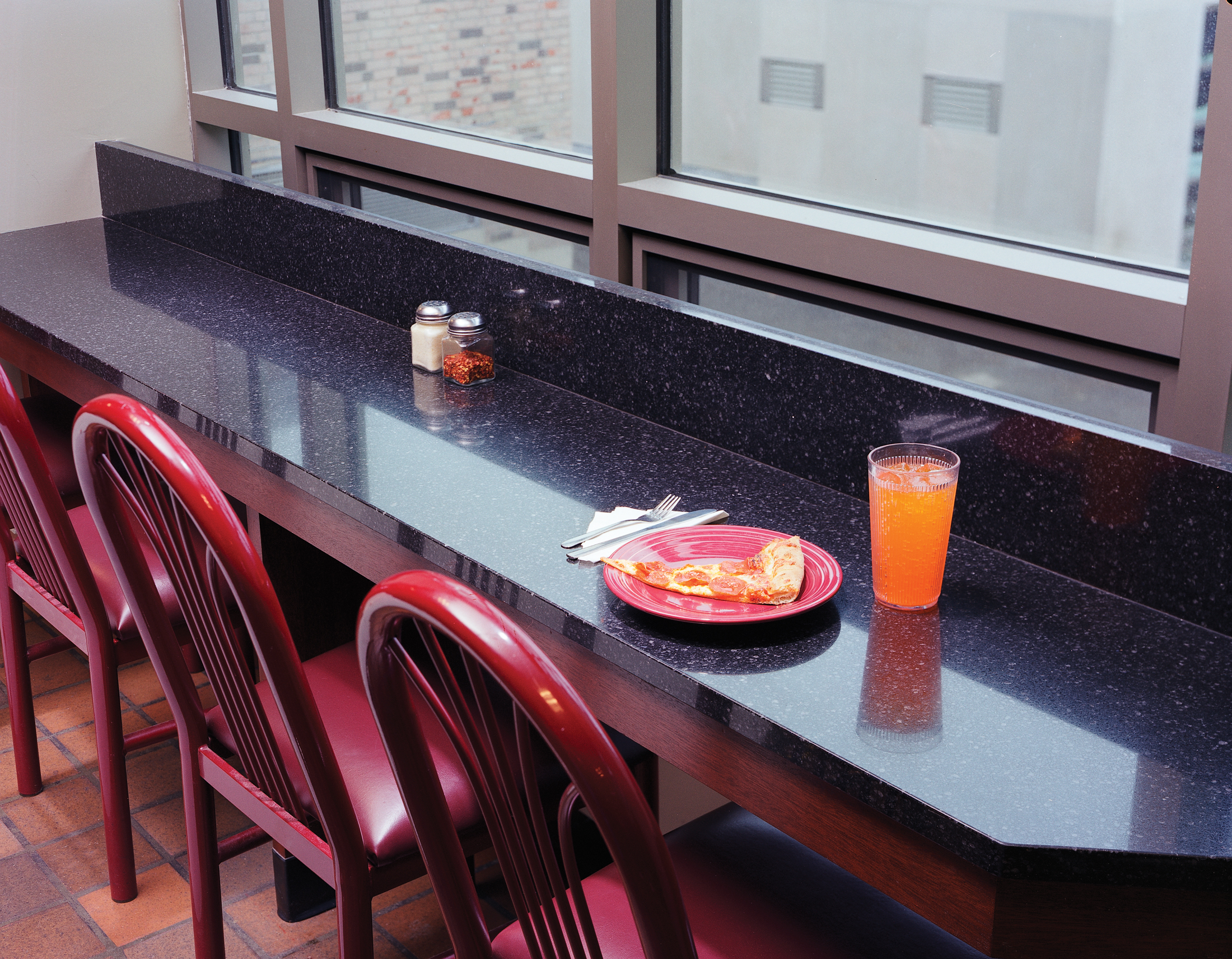 CHALLENGES
Choosing unique, stylish and interesting design elements that could attract students to a renovated dining hall area.
Design a student gathering space that has an intimate, upscale feel with materials that are practical, durable and easy to maintain.
Finding surfaces with the performance characteristics necessary to meet the needs of a university food service operation—including a hot pizza station, cold salad bar and specific food and fire code requirements.
SOLUTIONS
The unique radiance of Corian® Quartz created a warm, elegant dining space and cozy atmosphere that succeed in attracting students.
Corian® Quartz is heat-resistant, nonporous and stain-resistant and has NSF/ANSI Standard 51 Certification for food contact in commercial food service applications.
Corian® Quartz combines the natural strength and beauty of quartz with advanced polymer technology resulting in a highly durable surface that can meet the challenge of daily wear and tear.
BENEFITS
With an extensive color palette and distinctive natural crystals, Corian® Quartz brings a high level of style and sophistication to a wide range of environments.
Corian® Quartz resists chips, cracks and scratches. It requires no sealants or treatments and is easy to clean and maintain. Overall it is an ideal surface for high-traffic areas.
From countertops and buffets to cooking stations and tabletops, versatile Corian® Quartz is a practical choice for a variety of horizontal food service applications.
Project Details:
Salve Regina University, Newport, Rhode Island
Jerry Scully, Project Manager
Edward Clinton, Architect, Clinton Design Associate
Color: Corian® Quartz Galaxy Black