Corian® Design Makes Your Space
Meet the NEW Corian® Design Brand and its Innovative Portfolio of Materials:
We make it Personal.
If you want to make a statement, use our materials as your voice.
Patterns, texture, curves, light — the options are limitless.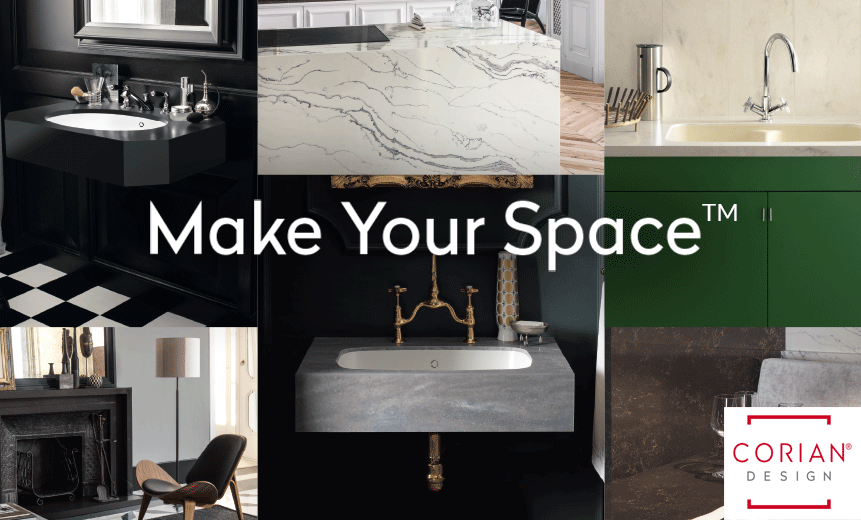 Since its inception, Corian® has provided the world of design and architecture the perfect medium in which to innovate. Renowned for its adaptability, its variety of patterns and color schemes, its sensorial qualities, durability and cleanliness, Corian® has ably met the challenges of modern living.
Today, Corian® is a major source of inspiration for leading architects and designers and around the world and it is used to meet the requirements of even the most demanding clients and homeowners. Our new Corian® Design branding delivers the brand into the future. Showcasing its evolving and expanding collection past a single material and into a world of colors, materials, shapes, and solutions, as well as its technological developments aimed at improving its performance and adapting it to the evolving needs of modern society.
At the heart of every design we know that there is an element, a personality, a material, a color, a theme, a function that makes the space. Get ready for a new experience with Corian® Design and let us help you make your project, your home, your building—let us help you— Make Your Space!
A New Name—the Same Great Product. Zodiaq®, our innovative quartz surface, joins the Corian® Design portfolio of materials.
Introducing Corian® Quartz, formerly known as Zodiaq®. Our innovative quartz surface has a whole new look including captivating new aesthetics. Corian® Quartz is renowned for a variety of patterns and color schemes, durability and cleanliness that enables you to make an impact with your space. With its addition to the Corian® brand family, there are so many aesthetics and countless functionalities to personalize your own space.